There's only one person I've ever been afraid of my entire life.
He's average height, and skinny, very skinny. He's got a bad combover, wears outdated glasses that are too large for his face, and a tie clipped onto a pistachio green short sleeve shirt. He's an older Kip from Napoleon Dynamite. He's very officious, and kind of an asshole. The kind of guy who loves wielding his teeny-tiny bit of power over other people's lives.
I call him "The Little Man." He's not little in size, but in spirit and vision.
I live in fear of the day The Little Man knocks on my door. He'll look at a form on his clipboard and say, "I'm sorry" — except he's really not — "but there's been a mistake. You're not supposed to be a writer. You're supposed to be a claims adjuster. Sign here, please." I'm afraid The Little Man is going to show up one day and take everything away because of a clerical error.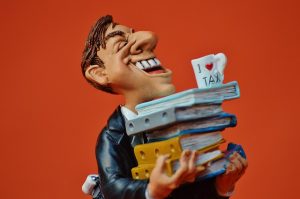 I've been looking over my shoulder for The Little Man for the better part of 30 years. Ever since I published my first column in my college newspaper, I've been trying to outrun him.
It's like the movies. The hero runs as fast as he or she can, knocking shit over into the bad guy's path. But the bad guy just steps over everything like it's not even there.
So I'm amassing evidence to slow him down and prove him wrong. Evidence to show that his form is wrong, and that I'm where I'm supposed to be.
I've thrown four books in his path. Twenty-one years of newspaper columns. Thousands of blog articles. Writing awards. Writing residencies. Speaking opportunities. But he won't stop. I'm throwing it all in his path, and he won't even look at it. He's a mindless bureaucrat, a drone who refuses to see evidence in front of him or use common sense. He only believes what the paperwork says, despite what real life is showing him.
I've been running for 30 years, and he won't stop coming.
I thought I escaped him once last year, when I was a writer-in-residence at the Jack Kerouac House in Orlando. It's a prestigious residency where only four writers are chosen out of over 300 applicants from all over the world. To me, this confirmed that there had been no error, there was no form on a clipboard.
"This will stop him," I thought. "There's no way he can find me here. I'm supposed to be here. They said so."
But when I stepped inside and closed the door on my first day, he was right there on the sidewalk in front of the house, staring up at it. In fact, it was the closest he'd ever gotten.
He chases my other artist friends too. They've seen him, following them wherever they go, whatever they do. To a man and woman, they've all seen him, no matter how successful they get, no matter how much stuff they throw in his way.
In fact, the more successful they are, the closer he gets. So we all run faster and work harder, and throw more stuff in his way. But he steps over it and continues on.
It's a rare artist who isn't afraid of him. Every capable creative professional I know keeps one eye on their work, and the other looking over their shoulder.
The ones who aren't afraid often don't know enough to be afraid. They're not committed to their craft and they don't take it seriously. The Little Man leaves alone those artists who wait for inspiration or think they're masters of their craft. (Because even the real masters don't think they're masters; they're looking for The Little Man too.)
So we work, because that's the only thing that lets us outrun him. It doesn't stop him. He never stops. Because he's waiting for the day that I stop, when I give up and quit running. That's when he'll get me. That's when I'll have to take his pen and sign his form, and finally give up on my dreams.
But that's not today. Today, I still have things to do and dreams to win. I still have the energy and the drive to work, and to outrun him one more day.
Photo credit: Max Pixels (FreeGreatPicture.com, Creative Commons 0)