There was a big debate on #Blogchat last night about whether one should blog every day.
"Yes, you absolutely should," say the every-dayers, the sloggers, the do it until it's righters.
"No, because why would you want to turn out less-than-good," say the inspirationists, the wanna-bes, the do it when it feels gooders.
I am not a fan of slacking, of inspiration, or of doing what feels good. I'm a professional writer, and that means I go to work every day, whether I feel like it or not.
You can tell the difference between the good writer and the average writer, the professional writer and the amateur.
The ones you've heard of and the ones you haven't.
I am a firm believer in writing every day, and blogging every chance I get. And while I don't blog every chance I can on my own blog, I'm blogging somewhere, on someone else's blog. Some days, it's on here, some days (especially Sundays), it's on Dan Schawbel's Personal Branding Blog, it's my own humor blog, and many days, it's for clients and not for me at all.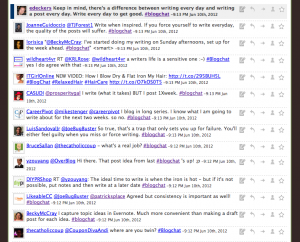 (Believe me, it's not lost on me that I'm advocating for daily blogging when I go for a week or more without touching this one.)
But I'm still a firm believer in writing — not just blogging, but writing — every day, and that writing needs to be in whatever genre or tool you use. If you're a fiction writer, you need to write fiction every day. If you write magazine articles, you need to write nonfiction every day. And if you're a poet, you'd damn well better be writing poetry every single day.
Otherwise, you're never going to get any good.
This holds true for bloggers as well. If you want to be more than "good enough" at this form of communication, you need to be blogging on a daily basis.
I don't hold with this idea that you should write only when inspiration strikes, or that you can get by with only writing a couple times a week. If you don't mind toiling in mediocrity and anonymity, then by all means, write whenever the mood strikes. Because the mood will strike when it's not convenient, like in the middle of a meeting, or while you're in bed. And if you wait for the next inspiration to strike, you're going to miss a crucial opportunity to 1) share a cool idea, and 2) get better.
But if you're practicing your craft on a daily basis, you're going to be good enough that you can wait for inspiration to strike and you can hit a home run. Otherwise, your moments of brilliance will go unseen and you won't have the impact you were hoping for.
You may not need to post on your own blog every day, but if you're not writing and blogging every single day, you're not going to be any good at it.
(For another side of the argument, read Patrick Pillip's "Write Every Day. Unless You Can't. He makes a valid argument for taking a day off once in a while, and calling them mental health days. I can't argue with that. And if I were smarter, I'd take one.)