I'm a huge Mr. Rogers fan. I try to live my life by what I learned when I was five years old.
I've often been accused of being a little too optimistic, too naive, or too pollyanna-ish. Personally I don't see a problem with that, since the alternative is to be a pessimistic jerk. It doesn't take any more effort to treat someone with respect.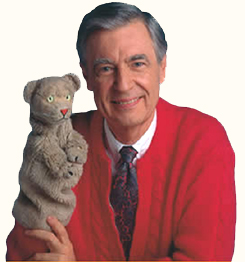 I watched Mr. Rogers with my kids — and sometimes alone in my hotel room when I was traveling and away from them — and decided to model my own personal branding mission based on what Mr. Rogers taught me when I was a kid, and what he was teaching my own kids.
So everything I need to know about personal branding, I learned from Mr. Rogers.
You Are Special
Leo "the hug doctor" Buscaglia once said that you should treat everyone like they're hurting, because they probably are. Mr. Rogers said he tried to treat everyone as if they were lovable and wanted to be loved. My goal is to treat everyone as someone special, because 1) they are, and 2) I will never know who will become someone significant later in my life.
My whole career growth in the last few years can all be traced back to one friend I met over 17 years ago, and lost track of. We met each other again six years ago, and that chance discovery online resulted in me moving down to Indianapolis in 2006, and eventually becoming a business owner. If I had written Darrin off, or never treated him as someone special, I might never have ended up in Indianapolis. And you might not be reading this blog post.
It's YOU I Like
"It's not the clothes you wear, it's not the way you do your hair." I like you, not for what you can do for me, but for the person you are. I don't care what you do for a living, I don't care how much money you have. Remember, you are special. Not your job, not your clothes, not your car. I couldn't care less what you do, wear, or drive.
Won't You Be My Neighbor? (It's a Beautiful Day in the Neighborhood)
I love community. I love the sense of community I get with people in my town, people in my favorite neighborhood, people in my industry, even people in my online networks. And I'll reach out to as many people as I can in those different communities to help my network grow. I'll even bring people from one community to another.
I meet with people in my industry at my favorite coffee shop in my favorite neighborhood. I invite people from my town to industry events. By cross-pollinating these communities, I can create one big network of awesomeness.
There Are Many Ways to Say I Love You
I've been listening to The Go-Giver on CD lately, and I'm getting ready to listen to Linchpin a second time. Listening to these two books, I'm reminded that my success doesn't come from taking from others, it comes from serving them (something else my friend Darrin taught me). The more I can do for people, the more that will be visited back upon me. We talk about this idea quite a bit in Branding Yourself (affiliate link), where we discuss the idea of Givers Gain. Givers Gain says you earn more by giving more. I can say "I Love You" by serving you in the ways that you need. Getting you to give me something doesn't say "I love you," it says "I see you as a means to an end."
You've Got to Do It
Social media is not one of those quick fixes, no matter how much we want it to be. You can't write one blog post, send one tweet, or like one page to find success. You need to do it over and over again. And when you're tired of doing it, you need to do it some more. It's hard work, it takes time and energy, but it's going to pay off in the end. "And when you're through, you'll know, you did it."
Any kid who grew up with Mr. Rogers will remember these songs and the lessons he taught us. But just because we grew up doesn't mean these lessons have become less important, or don't apply to us now that we're older.
If you want to make a difference in someone else's life, and your own, try treating people like they're special, like you like them just for them. Invite them to be a part of your community. Show them some love. And stick with it, doing it again and again.
You'll love the end results, but if you don't get exactly where you want to be, that's okay. I'm proud of you.