SEO pros all had to stop on a dime and pivot after Google's algorithm updates, abandoning all the old SEO tactics, and refocus on new, acceptable practices instead.
They may have acted too hastily.
We heard from a partner recently that a joint client we used to work with is seeing a decrease in their search rankings after we stopped doing the "old-school" SEO tactics for them (since when did 2010 become old school?!).
Their Google rankings have dropped because the posts didn't properly use keywords in the headline and body copy.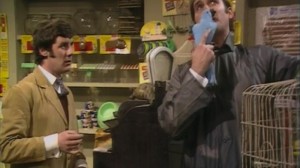 We weren't doing anything special. No keyword stuffing, no black hat trickery, nothing. We had been using keywords the way we were supposed to all along — mention them once in the headline, a few times in the body copy, once in the tags — but once we stopped doing it, everything headed south.
What this tells us is that old-school SEO is not actually dead. It's just different.
It's pining for the fjords.
Google still needs us to tell them what our blog posts are about. It operates just like a library's catalog service: if the library doesn't tell the database what a book is called, who wrote it, or what the subject matter is, you'll never find it in the library.
Imagine walking into a library filled with books without covers and title pages. You have no idea what the books are about, there's no rhyme or reason to the organization, and the only way you can know what's what is if a friend tells you where to find the book you want.
That's Google without basic SEO practices. All you're doing by following on page SEO is slapping a cover on the book, telling the library who wrote it and what it's called, and letting them organize it the way they see fit.
Now, compare that to the millions of web pages that never followed the SEO basics, or worse, the companies that no longer follow the SEO basics. If you continue to use the SEO basics, you're going to outperform these other pages just by taking 30 seconds and filling out three fields on your copy of WordPress SEO by Yoast
So, while a lot of so-called SEO "pros" like to jump on the "SEO is so OVER!" bandwagon and look down their noses at traditional SEO practices as useless, don't be so quick to abandon them. We're seeing evidence with several of our clients that these are still helping Google understand what their pages are about.
The tactics aren't boosting search rankings, and you can't rank higher because you use SEO "better." But old-school SEO is still serving a very utilitarian purpose. Don't give them up just yet.