As an Indianapolis 500 blogger, I occasionally get news from the folks at Indy Car and the Indianapolis Motor Speedway (although they're part of the same family, Indy Car is the governing body of the sport of Indy Car racing, and the IMS is the track the Indianapolis 500 is held on).
Anyway, I got something yesterday that caught my professional eye: the IMS President & CEO Jeff Belskus is going to start video blogging as a way to reach Indy 500 fans.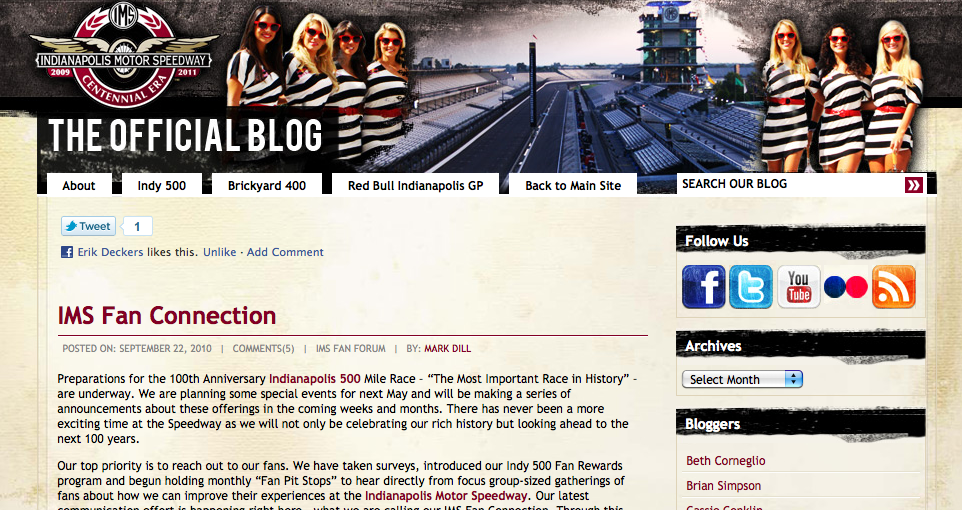 This is a rather bold step for the venerable institution, which will celebrate the 100th anniversary of the Indianapolis 500 in 2011. I mean, it wasn't until 2009 that they invited bloggers to the media center (giving some of us the recognition and confirmation that what we do is still journalism, even if it's niche journalism or citizen journalism).
Fans are asked to post any questions, comments, or ideas for Belskus (along with their name and hometown) at the Indianapolis Motor Speedway blog.
While Belskus probably won't do the customized Old Spice Guy YouTube videos, which included a pretty damn awesome marriage proposal — although if he did, I would become a lifelong fan of Jeff Belskus — I can see him doing shout outs to fans who took the time to ask a question. This kind of personalization can only further cement the relationship between fan and sport. Imagine how much more you would love your favorite team if they gave you special recognition, even once, during a game, match, or race.
Imagine hearing on a TV broadcast, "The Indianapolis Colts would like to personally thank Casey Mullins for the great comments and tweets during the game against the Giants last week. We appreciate your support." How would you feel, especially if your name was Casey Mullins, if your favorite or even semi-favorite team did that for you? Wouldn't you want to support the team even more?
Whether that's the intention of Belskus and the IMS, that could be the side benefit: increased fan loyalty, increased participation in this growing communication channel, all for the price of taking 30 – 60 minutes to shoot 10 – 20 one-off videos with a Flip cam (or knowing the IMS and their technology, a kick-ass digital video camera that any self-respecting video production company would give their right arm to have).
So I'll be interested to see what the IMS comes up with over the next few months with this experiment. I hope they can give it them time and energy a project like this deserves. The investment is minimal, since they already have the staff and expertise to do it, and the ROI should be huge.