Last month, I got to do something I've wanted to do for the last four years: give a keynote speech at Blog Indiana. While it wasn't my first keynote, it was going to be a special one because I had been attending Blog Indiana since it started. In fact, I think I have given more talks than anyone at the history of Blog Indiana, mostly because one year I not only gave two talks, I gave them twice.
But this was going to be the big one, the one I had hoped for when I first started bugging the organizers about it two years earlier.
I also knew I needed something new to talk about. Something that went beyond my typical 10 Secrets for Promoting Your Blog or 10 Ways to Build Your Personal Brand.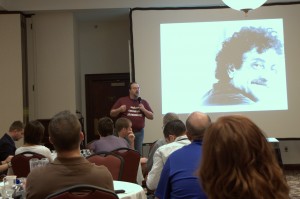 So I decided to focus on writing as my topic, but because I can never get away from 10 Secret Anythings, the topic was 10 Secrets I've Learned in 24 Years of Writing.
I've spent the last 24 years writing just about anything you can think of: books, newspaper columns, web copy, brochure copy, technical manuals (I hate these with a burning passion, by the way). I've written stage plays and radio plays. I've even written speeches for a US Congressional campaign.
And in those 24 years, I have learned that it's the language that's most important, and how you use it. It hasn't been the experience, the knowledge of the industry, or whether I have experience with a certain type of writing. It's whether I have a good grasp of how to use language effectively.
So I talked about important aspects of writing that have defined my own writing career — focusing on one aspect of writing you want to improve, and then doing it everywhere; know when you can, or even should, break the grammar rules; and, not to let your love of your words get in the way of good editing and improvement.
I even dropped the F-bomb in my talk to illustrate how words that represent the worst of what we do — like killing and torture — too casually, as in "my feet are killing me" and "traffic was torture today," but the word that describes how the best thing we do — make other humans — is an awful word that is horrible to say.
I even had a special t-shirt made for the occasion, thanks to the generosity of ooShirts, who gave me a couple shirts as part of their promotion. So I got a writing related shirt that said "Eschew convoluted phraseology," which is the ironic — some might say snotty — way of saying "avoid big words." I also got a second one to give away, which Brooke Randolph won by being chosen by random after sending out a special tweet.
I had a great time speaking, and have finally achieved my goal of giving the keynote at my favorite conference. Thank you to everyone who was there, and for the kind words during and after the talk. And special thanks to Shawn Plew and Noah Coffey for allowing me to speak.