You wouldn't think someone would be fired for 3 words.
But Jeffrey Cox, Indiana deputy Attorney General, was terminated by the Indiana Attorney General for a number of offensive tweets he sent out on February 19th.
We were surprised in the Indianapolis community, not only by the quickness of the developments — Cox was investigated on the morning of Feb. 23, and fired that same afternoon — but also because such a public figure as a deputy AG would make such publicly heinous statements.
According to an article on the Mother Jones website, Cox tweeted that he believed Madison police should "use live ammunition" when dealing with protesters at Wisconsin's state capitol.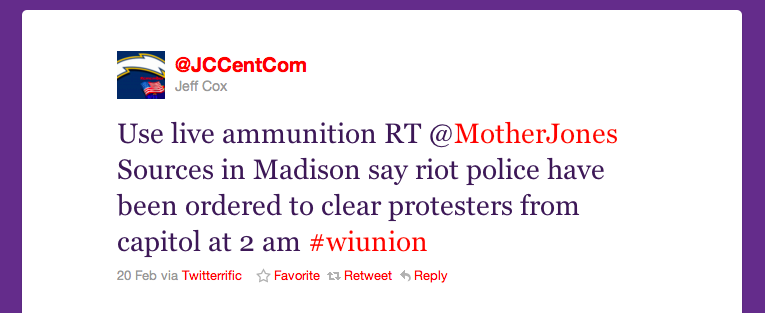 What Cox failed to understand is that social media is public and permanent. If you put out good stuff, and are helpful and supportive, it can prove valuable later on. But if you say something hateful and nasty, it may come back to haunt you, sooner rather than later.
It can hurt your reputation, you can lose your job, and in some cases, you could badly damage, or even end, your career. Even if you try to keep a wall between your personal life and your professional life, social media has broken it down. Something you say in private can become a problem for your work life, and vice versa.
In short, be true to who you are, but if that you is a jerk, then you don't need change your online behavior. You need to rethink your whole approach to life.
The fact is, social media has tripped up people making rather awful statements, exposing what people think are private jokes or "only a little mean." What you might see as snarky, or even a bad attempt at dark humor, can end badly. It can be something as minor as public embarrassment, or something as major as being fired in as public a manner as possible, and being a story on the 11:00 news, as well as making headlines in the London Daily Mail.
I was interviewed by WISH TV and Debby Knox (@Debby_Knox) last night for the 11:00 news, and asked about the potential damage Cox did to himself because of his public missteps.
"Unfortunately, this sort of thing will follow him around forever," I said. "When someone, like a new employer, Googles his name — even 10 years from now — this story will forever be associated with it."
I don't know if this is irony or just an odd coincidence, but nearly 10 hours earlier, I had spoken to the Young Professionals of Central Indiana — including several attorneys — about the reasons they need to be on social media, personal branding being the biggest reason of all.
Social Media Affects Personal Branding
What that means for anyone who uses social media is that we need to remember that recruiters are searching for us online. If they find you tweeted about how police should shoot fellow citizens, you can guarantee you'll be dropped from the candidate pool immediately. If you post your "Spring Break" photos on Facebook, they'll be held against you. If you write blog post after blog post calling the other political party a bunch of Socialists or Fascists, people won't want to work with you.
Social media does not let people whisper dirty jokes or make offensive statements among friends. Social media blasts out everyone's messages, and exposes character flaws and moments of indiscretion.
Cox says this is a matter of his First Amendment rights being quashed. And that this was satire, and he "wanted to make people think." While that may be the case, it's also a matter of his reputation, now horribly stained and tarnished. Sure, you're free to say these sorts of things, but when you're a public servant in a visible agency and position, you should be held to a higher standard.
The lesson here is be careful of what you say online. A career you spent ten years growing can be undone in mere seconds. Things you meant for a few people can become widespread in a matter of hours, or even minutes. In Cox's case, 3 words, and the subsequent deeper-hole-digging tweets, became an international story, and resulted in him losing his job in the most embarrassing manner possible.
The things that make social media awesome also make it dangerous. It's a double-edged sword, so handle it with care.
My book, Branding Yourself: How to Use Social Media to Invent or Reinvent Yourself
(affiliate link), is available on Amazon.com, as well as at Barnes & Noble and Borders bookstores. I wrote it with my good friend, Kyle Lacy.