One of my pleasures — I wouldn't even call it a "guilty" one — is recording The Joy of Painting with Bob Ross on my DVR, and then taking a nap while I watch. Bob's voice is so smooth, so relaxing, I'm often asleep before he finishes showing all the colors across the screen.
If I could make three or four of them autoplay in a row, I'd slip into a coma.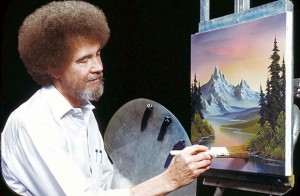 I've been watching the show for over 25 years (it started in 1983 and ran until 1994), because not only is he fun to watch, but because Bob teaches us important lessons, even if we never paint a single canvas. (Also, he filmed his shows at my alma mater, Ball State University, so I feel a sense of obligated pride.)
Lately, I've been watching and relistening, because a lot of what he says applies to personal branding and networking. Here are four lessons we can all learn from Bob Ross, he of the happy trees.
(Why four? Because if I had an odd number, one would be left out.)
1. Everyone Needs a Friend
Bob never paints just one of anything — one mountain, one cloud, one tree. He paints a happy little tree, and then he declares, "I think he needs a friend. We'll put him right here."
Everyone has a friend in Bob Ross' world, and so it goes in our own. If you're going to become an entrepreneur or grow your personal brand, you'll need friends. We all need a network of support.
Whether it's family and friends, community groups, colleagues at the coffee shop, or your online social networks, you need people to help you out. People who can shield you from the wind and give you someone to talk to when you think you're out there all on your own.
Make connections with mentors, mastermind groups, networking groups, and professional associations. Find your tree friends and your support will be stronger just by having them around.
2. There Are No Mistakes, Just Happy Accidents
Bob never wanted people to worry about their quality of work when they were learning. The great thing about his method, he said, was that if you make a mistake, you just scrape it off and try again.
Even so, the mistake was still a learning experience. You learned from it, so you could do it better the next time.
As you grow your business or personal brand, you'll make plenty of mistakes and bad decisions. You'll start down the wrong path, spending hours or days on a project or problem, or in a business relationship, only to find you made the wrong choice.
So you go back and start all over. You scrape off what you did, and do it better the second time.
In the end, you fixed the problem, it looks good, and now you know more than you did before.
3. In Your World, You Do What You Want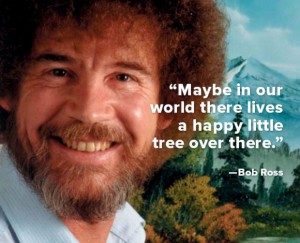 Bob never worried that much about colors. Purple skies, green oceans, or on a recent show, everything — clouds, grass, even the water — was a different shade of brown.
One of the things I appreciate about owning my own business is that I get to do things the way I want. I hire who I want, I work when and where I want, and I take on the clients I want. The only thing I need to worry about are the results, not the process.
I've had employers, like my stint in the state government, where the process was more important than the results. As long as I was there from 7:30 to 4:00, it almost didn't matter what I got done.
Sure, I had tasks that needed doing, but we weren't beholden to shareholders, clients, or anyone who gave us money. As long as we all trudged on the same treadmill, the bosses were happy. That was a paint-by-numbers job if I've ever had one, and there was no room for experimentation or change.
Now that it's my own world, the only people I need to keep happy are clients. And as long as I deliver what and when I promised, they're happy. They don't care if I work between 8 and 5, or if I'm working at 2 a.m. at home, or 2 p.m. in a coffee shop.
4. It's That Easy
Every time I watch The Joy of Painting, I think I could actually paint like Bob. He describes different techniques, and occasionally murmurs, "It's that easy. Just two hairs and some air. It's that easy."
When I see the outstanding work my friends are doing, I know I'll never be a painter. But when Bob does it, I believe I can do it too.
Not only is his confidence in me contagious (he's like Mr. Rogers for grown-ups), he shows that his method isn't as hard as some of the more traditional methods.
He also explains that there are plenty of classes, resources, and even certified instructors who are there to help you out.
So it goes with entrepreneurship. While it can be difficult at times, it's not like you're recreating a multinational corporation from scratch in six months. Start small, start with what you know, and make sure you learn along the way. There are plenty of classes, resources, fellow entrepreneurs, and even certified instructors who are there to help you out.
Bob Ross may not be one of the best painters of our day, but I think there's a reason his show is on 21 years after he died. His lessons and his techniques are applicable, not only to create your own art, but creating your own business and your own personal brand. Start watching him on your local PBS station or on YouTube, and see what gems you can pick up from Bob and his happy little trees.