A few weeks ago, I decided I'd had it with all the "40 Under 40" lists, and wondered just what was so wrong with being 40+. As if the 40-somethings and 50-somethings somehow deserved an asterisk next to our accomplishments.
So I sent out the call for nominations for my Social Media 40 OVER 40 list. I sent word out via Twitter and Facebook that I wanted nominations of anyone who was doing some awesome stuff in social media, but was born anytime before August 1970. And they came in. We received 60 nominations, and came up with another 20 or so names ourselves. We pared the list down to 60, then 50, and then 40.
This isn't a list of people whose names you hear over and over. Some of those people are here, like Chris Brogan, who turned 40 in April (welcome to the club, Chris). You may have never heard of others, like Laverne Bentle Blasdel. And many others are people who are mini-celebs in their own communities, like John Dalton, who is building the blogging community in Northwest Indiana.
There may even be some obvious, huge names missing, but that's because we didn't know how old people are. And hey, if you don't respond to tweets asking if you're old enough to make the list, we're not chasing you down. Maybe next year. (Also, if your name is on the list, but you're actually not over 40, you need to take better care of yourself. You look like hell.) We also didn't include our own names, even though we were both nominated. It just didn't seem appropriate, but thank you to those who thought that highly of us.
These names are in alphabetical order, rather than order of importance, coolness, or relevance. It's really hard to decide who's best, second best, and so on.
So here is the inaugural Social Media 40 OVER 40.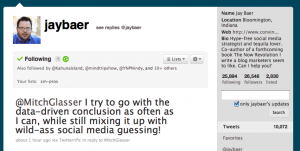 1. Jay Baer
@JayBaer
Bloomington, IN by way of Flagstaff, AZ
I first met Jay at Blog Indiana where we stood in line for tacos. The next day, we shot a quick video about how to eat a hamburger at MacNiven's, an Indianapolis Scottish restaurant. Our whole interaction seems to be based on food, so I'm looking forward to pizza one day. Jay is a social media consultant who works with major corporations and PR firms. He has founded five companies, has worked in digital marketing for 15 years, and just finished up his new book, The Now Revolution, which will be out in February.
2. Chris Baggott
@ChrisBaggott
Indianapolis, IN
Chris co-founded ExactTarget, an email marketing SaaS, which allowed businesses to personalize their connection with their consumers. ExactTarget saw the value in 1:1 marketing before 1:1 marketing was en vogue. Chris founded Compendium Blogware as a social content publishing platform that allows businesses to publish blog content that helps them rank high on the search engines, as well as push the content out to organic landing pages and social media sites like Twitter and Facebook. He's also the co-author of Email Marketing by the Numbers, with Ali Sales.
3. Lorraine Ball
@RoundPeg
Indianapolis, IN
Lorraine is the president of RoundPeg, a PR and marketing agency that specializes in small businesses. She is also the person responsible for unleashing Kyle Lacy on the business world, when he worked for her as an intern. She is a former president of Rainmakers, a business networking organization, a highly sought after public speaker, and is a social media rockstar.
4. Christopher Barger
@Cbarger
Detroit, MI
Chris is the social media director for General Motors, and keeps a blog about his thoughts, philosophies and experiences in the social web on Tumblr.
5. Laverne Bentle Blasdel
Lawrenceburg, IN
Not everyone who makes this list has to be a social media powerhouse. They just have to do something notable. So when Laverne was nominated by Carey Driscoll, I thought she deserved to make it. Laverne is 88 years old, lives with her sister in a retirement home, and apparently totally rocks Facebook keeping up with her friends and family.
6. Chris Brogan
@ChrisBrogan
Boston, MA
Chris is the undisputed leader in the social media world. He's a Fortune 500 social media consultant, the owner of New Media Labs, co-author of Trust Agents, author of Social Media 101, co-founder of PodCamp. You knew he was going to make the list, of course, but he just barely made the nomination cutoff by four months.
7. Bob Burchfield
@AroundIndy
Indianapolis, IN
Through a daily combination of Twitter, Facebook, LinkedIn, Ning, FriendFeed, Foursquare, Twubs, podcasting, Blogger, WordPress, Animoto, and other social media apps, site traffic on the Bob's main website has increased exponentially, compared to pre-social media days. What's impressive is that Bob does a lot of his web programming by hand. While others are satisfied to download plugins and apps, Bob builds his own. The net result is that if you do searches for things to do around Indianapolis, it's Bob's website that appears first, beating out the "professional" websites whose jobs it is to promote Indianapolis and Indiana tourism. Very impressive.
8. Shawn Carter
@JayZ or @s_c_, his personal account
New York City
I couldn't resist. Shawn Carter is better known as Jay-Z, a force in musical entertainment. He's got 3.7 million fans on Facebook and 236,000 followers on Twitter. He may not be a social media pro, like most of the people on the list, but he's embraced social media, and is using it to its fullest to promote his music and his brand, so he's the only entertainer to make the list.
9. Jon Costas
@JonCostas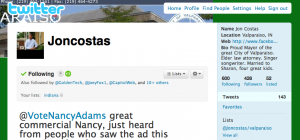 Valparaiso, IN
He's the mayor of Valparaiso, Indiana, and he handles his own Twitter account. He doesn't pass it off to an intern, doesn't post the occasional tweet about a public appearance. He has actual Twitter conversations with other people. If that isn't the coolest thing, I don't know what is.
10. Pat Coyle
@Sports20
Indianapolis
Pat is the owner of Sports 2.0, a sports marketing agency in Indianapolis, and the founder of MyColts.net. But his biggest claim to fame is the creation of Smaller Indiana, a Ning-based social network for people who live and work in Indiana, whether they're entrepreneurs, artists, creative professionals, blue collar types, corporate types, or even students. The network has grown to 9,000 members since December 2007, and has been a source of news, information, trends, and has hosted several events where thought leaders and community members can come together to discuss whatever issue is at hand.
11. Steve Dalton
@DaltonsBriefs
Valparaiso, IN
Steve is a blogger in Northwest Indiana who works for Green Pointe Homes, a Northwest Indiana home builder. He's also a strong blogging evangelist in his local blogging community, and spends a lot of time trying to get new bloggers to write about what's happening in the local online community. He also gets to teach university classes from time to time.
12. Kevin Dugan
@PRBlog
Cincinnati, OH
Chuck Gose spoke so highly of Kevin in his nomination, it's just easier to let Chuck say it:
Kevin is social media in Cincinnati. In fact, he runs Cincinnati Social Media. The guy is a master at taking various topics that are on people's minds and splashing them with his own professional experience. As part of Cincinnati Social Media, he's the founder of Cincinnati Social Media Breakfast. His blogs, Strategic Public Relations and The Bad Pitch Blog, have been singled out for awards, including a 2007 Award of Commendation from the Public Relations Society of America. Both blogs are ranked by Advertising Age magazine's Power 150 — a ranking of the top marketing blogs in the world. And he's been recognized personally as well. Aside from the accolades and professional work, Kevin is one of the good guys. Always willing to teach and help others learn about digital technology and content.
13. Paul Dunay
@PaulDunay
New York City
Paul Dunay is the global managing director of services and social marketing for Avaya, a global enterprise communications company. He is also the author of three Dummies books: Facebook Marketing for Dummies, Social Media and the Contact Center for Dummies, and Facebook Advertising for Dummies. He was also named to BtoB Magazine's "Top 25 B2B Marketer of the Year" in 2009.
14. Dana Freeman
@MissMagpiefgs
Vermont
Dana is a parenting and travel blogger for FindandGoSeek.net, focusing on one very specific niche, northern Vermont. She writes about weekend events, after-school activities, camps, festivals, story times and so many more things for parents with families to do in the Green Mountain State.
15. Tanya Goodin
@TanyaGoodin
London, England
Tanya is one of only two people on this list outside the United States (#16, Sharon Hayes, is from Montreal). She is the CEO of Tamar.com, one of the first agencies in the UK to talk about social media almost 3 years ago. Tanya was named one of Revolution Magazine's Top Tweeters in 2009, was a finalist in the Blackberry Outstanding Women in Technology in 2008, and a London regional finalist for the Ernst & Young Entrepreneur of the Year in 2007.

16. Sharon Hayes
@SharonHayes
Montreal, Canada
Typically, I don't pay attention to people with more than 20,000 followers. A lot of times, that can be finagled through some clever auto-follow bots and software trickery. The clue, however, is to look at the number of lists the person is on. Sharon Hayes is a consultant with 76,000 followers, is following 69,000 people, and is on 3,819 lists. In other words, 5% of her followers put her on a list of some sort. (Chris Brogan is has a 9.5% list-to-follower ratio.) So, something tells me she knows what she's doing, and adds value to her followers. She is a business development expert who has created and developed over a dozen companies providing business to business services. Since the mid 1990's, she has been focused in the areas of email marketing, community development, branding/domain name services and social media. (Update: Sharon is NOT a life coach or Twitter trainer, as I had originally reported. She corrected me, and I'm correcting it here.)
17. Thomas Ho
@DrThomasHo
Orlando, FL
One of two Ph.Ds on the list (the other is Werner Vogels, #37), Thomas Ho was a Social Media and IT instructor at IUPUI, and now works for Wycliffe Bible Translations. Thomas was the one who got me started in Twitter. For weeks, I couldn't understand the point of it, until he explained it to me. Now I can't function without it. He constantly tries new technologies and tools, and shares his knowledge with other social media folks, providing meta-social media knowledge to our entire industry.
18. Bevery Jackson
@BevJack
Los Angeles, CA
marketing dept for Recording Academy
Beverly is part of the marketing department for The Recording Academy. As part of her responsibilities, she has lead The GRAMMY Award show's social media efforts. To her credit, the telecast and events around it have pre- and post event blog coverage, live twitter streams and earlier this year, a Social Media Rock Star conference.
19. Douglas Karr
@DouglasKarr
Indianapolis, IN
Doug is one of the smartest people in social media today, and should be in the top 5 on this list, easy. He's the owner of DK New Media, a co-creator of Compendium's blogging software, co-author of Corporate Blogging for Dummies, and owner of the Marketing Tech Blog, a leading marketing technology, uh, blog.
20. Chris Kieff
@ckieff
New York City
Chris is a long time social media evangelist and socializer, and actually got his job at Ripple6 by announcing that he was looking for a social media job on Twitter. He writes extensively about how businesses can improve their use of social media. He also has a new Twitter contest application, Real Time Contest, in beta. He is also a speaker, social media educator/trainer, and a consultant.
21. Cliff Kinard
@cliffkinard
Austin, TX
One of the new "intrapreneurs" at IBM, Cliff was digital…when digital wasn't cool or profitable. Today, Cliff is helping reinvent the IBM System x Server team's social media and internet marketing approach to engaging customers in the x86, Intel and AMD server hardware market.
22. Charlene Li
@CharleneLi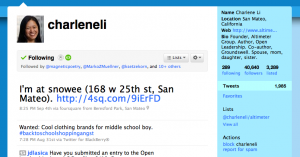 San Francisco, CA
Charlene has done some amazing stuff in her career. She is the co-author of "Groundswell," author of "Open Leadership," and the founder of Altimeter Group, a strategy firm that helps clients use new technologies. She was named one of the 12 most creative minds of 2008 by Fast Company, and one of the most influential women in technology 2009. And now she's on this list, so she's got that going for her.
23. Jesse Luna
@JesseLuna
Santa Paula, CA
Jesse helped roll social media into his former company as Web Marketing Communications Manager. These efforts included the creation of a company-wide blogging infrastructure, training a dozen over-40 co-workers on the art of blogging, and helping architect the design. Jesse was also an adjunct professor at Cal State Channel Islands for over a year, teaching web design and blogging as part of a Management of Information Systems course.
24. Tom Martin
@TomMartin
New Orleans
Tom Martin is a marketing and social media whirlwind. In fact, while I was compiling this list, I saw that Tom had left for Brazil on the last day of August to speak about social media. Brazil? Are you kidding me? I can't even get invited to Brazil, Indiana, and he's going to a whole other hemisphere. Tom is the president of Zehnder Communications, which helps clients "combine traditional, digital and social media marketing strategies." He also created Converse Digital, a new social media monitoring service that's still in the startup phase.
25. Greg Matthews
@ChiMoose
Austin, TX
Formerly the director of consumer innovation and social media at Humana, Greg is now the Social Media Director at WCG, a global communications firm, handling social media and social networking for some pretty high profile clients. His experience is notable because he was able to get Humana, an insurance company — an industry not known for embracing change, to adopt social media The fact that he is a big hitter at a big ball team is enough to get him on this list; getting an insurance giant to adopt social media is enough to get him a sainthood.
26. Becky McKray
@BeckyMcCray
Alva, OK
Becky really knows her stuff when it comes to social media, said Karen Putz (#29). "When she isn't in the field talking to cows in her rural town (population, a few handful of people, the cows outnumber 'em) she's on Twitter, engaging in conversation and linking to people and events from all over. She's the owner of a liquor store– but she doesn't touch a drop of the products she sells. She's a sought-after speaker on the topic of social media, so that ought to tell you something."
27. Mitch Mitchell
@Mitch_M
Liverpool, NY
Mitch Mitchell is not Jimi Hendrix's old drummer (because that guy's dead). No, our Mitch hails from Liverpool, New York (so he's no Beatle either), has been blogging since 2005 and talking and writing about social media since 2008.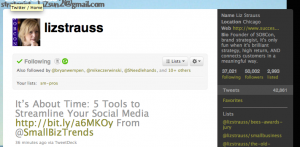 34. Liz Strauss
@lizstrauss
Chicago, IL
Founder of SOBCon (Successful and Outstanding Bloggers), the national conference that was started because of a single blog post asking people to start a conversation in the comments. section. Liz's website explains it this way: "In 2008, (SOBCon) became the "Cirque du Soleil" of conferences in a new format that included interactive mastermind teams. Liz selects the content; the content decides the presenters, and after each presentation, the audience immediately applies what they heard by discussions in mastermind teams. The new model is a once a year think-tank of intentional serendipity. SOBCon gives participants a real-time, real-space chance to make a difference to business and the world. "
35. Penelope Trunk
@penelopetrunk
Darlington, WI
If we were doing this in order of coolness and accomplishments, Penelope would be in the top five. She's the author of Brazen Careerist, and owner of the social network by the same name. I was actually surprised to hear that Penelope was over 40. Given her niche — career advice for Generation Y — I figured she was just a few years older than her subjects. But my editor at Pearson said, "no, she's close to your age," which made me feel like less of a loser. That's because Penelope, a former professional beach volleyball player, is the founder of three startups, including BrazenCareerist.com, a social network for Generation Y. Her career column also appears in 200 newspapers.
36. Jim Turner
@Genuine
Firestone, CO
Jim started One By One Media back in 2004, and is a professional blogger and social media consultant, working with Fortune 500 companies and small startups. He also created SocialMediaSphere.tv, a UStream TV broadcast about social media, and BloggersForHire, a professional blogging agency. Best of all, he totally rocks that Captain America uniform in his Twitter avatar, although maybe not as muscly as the original.
37. Werner Vogels
@Werner
Seattle, WA
Dr. Werner Vogels is the CTO and VP of Amazon.com, and only one of two Ph.Ds on the list. He writes a blog, All Things Distributed, to discuss general technology, as well as some science, cloud computing, and things going on at Amazon. But what's really cool is his Werner.ly blog, which bridges the gap between Twitter and his regular blog. A lot of his interests are about music, and one of his recent posts was an "I can't believe you listen to this shit' top 10 list of bands he likes.
38. Dave Woodson
@DaveWoodson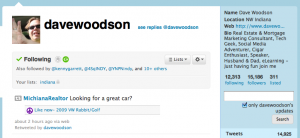 Michigan City, IN
Dave is well-known in real estate circles, helping organize Indiana's RE BarCamps, a social media conference for Realtors, mortgage brokers, and people in the real estate business. A lot of Realtors have embraced social media and blogging, and Dave has helped make that happen, at least for Indiana. Dave started in social media three years ago to build his first mortgage business, and turned that into a consulting and speaking business, and has helped him create a strong personal brand in the real estate and mortgage business both in his region and on the national level.
39. Susan Britton Whitcomb
@SusanWhitcomb
Fresno, CA
Susan is the co-author of The Twitter Job Search Guide, and SIX other books. She is also a speaker and coach. She uses Twitter extensively to send out job search advice, whether it's résumé tips, using social networking to find jobs, or advancing your career. Sarah, who nominated Susan, said "you may not have the time or resources to work with a professional career coach, but in following Susan you can still get the guidance needed to give yourself an edge in the job market."
40. Steve Woodruff
@swoodruff
New Jersey
Steve is a pharmaceutical marketer, but is also a creator of Opportunity Networks, a networking group, dedicated to "opening up doors of opportunity for personal and professional advancement."