After reading Erik's blog postThe Number One Reason Companies Need to Blog About Their Products, I thought I'd clarify the best place to put your blog if your objective is to get the most search juice and the top search rank.



If your blog attracts lots of links, it may be better to have the blog inside your website as the links will drive your site's page rank and SERPs (Search Engine Results Page) up. In fact, links are so critical to search engine optimization that almost always, the right answer will be put the blog inside your website's domain. For those who have and have no idea what I'm talking about, we're talking about this difference in your blog's address:
mydomain.com/blog
versus
blog.mydomain.com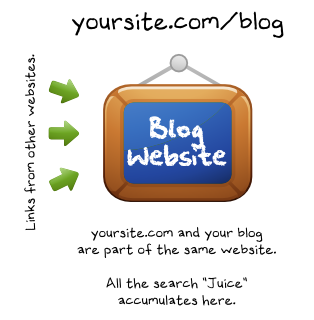 This is a very important consideration as search engines see blog.mydomain.com as a separate website from mydomain.com. Search engines see mydomain.com/blog as part of the same website, so links to the blog are going to help raise the page rank and search position of the entire website.
There really are only three reasons that are likely to come up for hosting your blog outside of your website's domain for SEO purposes:
1. You already have a top rank for your keywords and wish to banish your competitors further down the first page of search results.
2. There is a technical reason you cannot have your blog inside of yourdomain.com. For example, you might use a subscription service for your website like a lot of Realtors, attorneys and financial planners do. Often times, these services will not let you install WordPress or another blogging system on their servers.
3. No one is going to link to your blog, and so the best you can hope for are a few keyword links back to your website.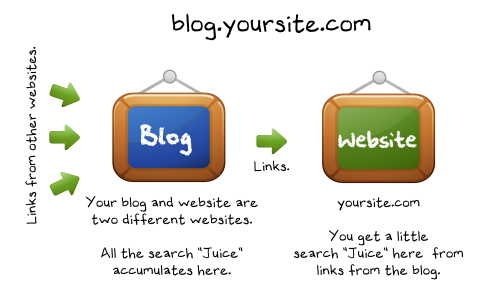 Let me say it again: putting your blog inside your website is generally the best strategy unless you are already top ranked, have a technical limitation or no one is going to link to your blog.
Note: In Compendium Blogware's case, their blogs fall under situation number 2. They have to do subdomains or external domains(somenewsite.com) and cannot do a mydomain.com/blog URL as they would have to move their software to the server hosting mydomain.com. While the "rising waters raise all ships" philosophy will help your SEO efforts, you don't get quite the boost that you do from the mydomain.com/blog strategy.