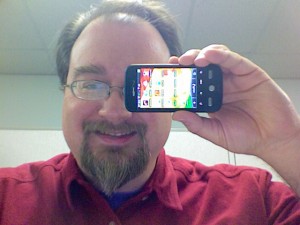 I'm loving my new HTC Droid on Verizon right now, although I'm worried about my motivation for buying it. I finally decided to get it because Chris Brogran got one.
Now, I'm not the kind of guy who buys stuff because some celebrity says so. In fact, I will often go out of my way to not buy something because a celebrity did. Ashton Kutcher is schlepping some new camera? I won't buy it. Peyton Manning has a new MasterCard commercial? He's one of my favorite players, but I'll stick with my own credit card.
I realize Chris is not actually a celebrity (he's what we call a "cewebrity"). But after reading Chris' book Trust Agents, especially his chapter on "One of Us," I decided I could trust him. Chris uses a cell phone all the time. If he decided he couldn't live with AT&T's crappy network anymore, and that the Droid was a pretty good deal, then maybe it was time I joined the 21st century and got rid of my old flip phone. (It wasn't that old.)
Basically, I was torn in three directions: do I get the Droid and stay with Verizon (I've been with them for 8 years)? Do I wait to see if the iPhone becomes available to Verizon in Q3 2010? Or do I leave Verizon and go to AT&T just to get an iPhone and have to deal with a network that most of my Indianapolis friends detest?
Once I saw that Chris Brogan — One of Us — had made the switch, I knew which one to get.
So my wife and I took advantage of Verizon's Buy One Get One offer on the Droid ERIS (which I think should be called the ERIK, but they didn't ask me), as well as our upgrade credits and rebates, and got two of them for $24. Not a bad deal.
I'm still learning how to use it, but I'm starting to see all the cool stuff the Droid can do: Twidroid for Twitter, Evernote, Google Latitude with turn-by-turn directions, and — God help me! — Foursquare. (I am seriously digging FourSquare. It makes me want to get out more.)
I'm still fiercely clinging to my celebrity independence, and refuse to be swayed by someone's popularity when I know they're nothing more than a shill-for-hire, pimping out their name and reputation to the highest bidder.
But I'm also wondering if Chris will autograph my Droid the next time I see him.