I was at a Rainmakers meeting last night, when my friend Lorraine Ball was the guest speaker. She spoke about the local business economy and the importance of supporting local businesses, especially if you're in a small business yourself.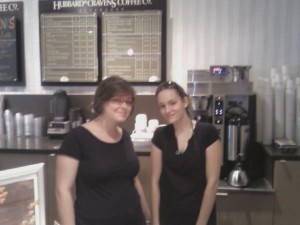 Lorraine talked about when Rainmakers first started, they had their favorite local special coffee shop at the corner of 86th & Keystone. The owner, Malcolm, was even a Rainmaker, so it made sense that they would all meet there. Since they didn't have offices, that became their de facto office. If you wanted to find Tony Scelzo, Lorraine, or any of the other Rainmakers, you didn't call them, you drove there. Until one day, Lorraine showed up at the shop, and found that it was closed down.
Although there are a lot of reasons and suppositions about why it happened, the simple fact is that Malcolm just wasn't getting enough local support from local customers. The Rainmakers made up about 40% of his business, but at the time, they only numbered about 100. You can't run a successful coffee shop on 250 people.
Now, Rainmakers has reached 1600 members. They're having one-on-ones and entrepreneur meetings galore, at a variety of coffee shops all over the city. Unfortunately, most of these places tend to be at a nearby Starbucks, and not a local coffee shop like Malcolm's.
Our local economy is built on local business, not on national business. Local coffee shops, local supermarkets, local hardware stores bring in money to our city and state; Starbucks, Wal-Mart, and Lowe's don't.
In fact, out of every dollar you spend at a local business, 40 cents of it stays in the community. When you spend a dollar at the big chain stores, 13 cents stays in the local economy. And that's usually in the form of salaries, which are then spent on coffee, food, and home items. . . from Starbucks, Wal-Mart, and Lowes.
In other words, if you want to grow your local economy, patronize local restaurants, coffee shops, and stores whenever possible.
As a small business owner and networking fiend, I have had more than my share of one-on-ones in coffee shops. I've personally drunk enough copy to float a battleship and put Juan Valdez's kids through Harvard Business School. And I've tried to do it whenever possible at any of my favorite local shops. I avoid Starbucks whenever possible (although there are times it's just unavoidable).
I have my favorites, and I often tell people about "the two best coffees in the city," both of which roast their beans locally, rather than buying them from somewhere else. I visit Hubbard & Cravens in Broad Ripple several times a week, and can often count on bumping into people I know, including several Rainmakers, fellow writers, and other social media luminaries. It's sort of like Cheers for the networking set.
Now, one of my own favorites (and Doug Karr's home away from home), the Bean Cup, is closing down. It's the fourth or fifth closing that I can think of since I moved here three-and-a-half years ago. Why? Because more people are concerned about buying coffee with an image, not supporting their local shops.
Here's the bottom line: if you're a local business owner or entrepreneur, and you expect people to support your business, it's important that you support your local community. If you're a local entrepreneur, and hold most of your meetings in a Starbucks, then does that mean I don't have to support you? It seems rather odd that people who depend on a local customer base do their business in a national chain that only gives $.13 back to our community.
"Until Starbucks starts sending me checks from Seattle," said Lorraine, "I'm not going to patronize them."
Here's my challenge: if you meet with clients, partners, and vendors at coffee shops, forgo Big Corporate Coffee and visit a local shop instead. Be brave, be bold, be daring. Try something new for once, try something that's not bitter and over-roasted, and see if you can find a new favorite coffee shop. And if you're in the leadership of a networking organization geared toward local businesses, I think it's especially important that you be a role model in this. Stop visiting coffee shops that don't support our mission of "Be more, serve more" and "SHARE" and hold your meetings in the ones that do.
If you're not sure where to find one, check out the Indy Indie Coffee shop map Doug Karr and I created. It's an up-to-date Google map of all the local coffee shops in Central Indiana. Visit the map, zoom in to your neighborhood, and pick a shop in your area. Start holding your meetings at these locations and become a regular. Take advantage of their free wifi, better tasting coffee, and strong sense of community.
If we're going to rebuild our local economy, it's not going to happen by eating at big chain restaurants, drinking big chain coffee, or buying big chain groceries. It's going to happen by visiting local coffee shops, buying from a local hardware store, and even going to local supermarkets and farmers markets.
And if you want to know what the two best coffees in Indianapolis are, send me an email and I'll share my favorites with you. I'll also tell you where to find the best brownies, best atmosphere, and best owners.
Photo: Me. That's Karla & Ashley, two of the fine baristas at one of my favorite coffee shops.